CANON ROCK – J. PACHELBEL
Canon Rock – J. Pachelbel
Transcripción para 1 flauta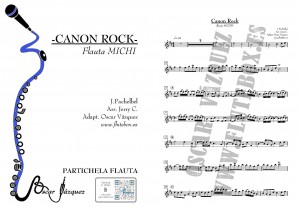 En Flutebox.es dispones de la partitura del Canon Rock de Johan Pachelbel para flauta travesera en la versión Rock del Canon de Jerry C que se posteriormente ha sido adaptada por distintos intérpretes para distintos intrumentos como flauta traversa o violín . Este arreeglo está extraido del video de youtube del Canon Rock de Pachelbel interpretado en la flauta transversal por Michi, basado en el arreglo completo de Jerry C. Puedes adquirir la partitura o descubrir otros arreglos en el apartado de partituras para flauta o pinchando aquí.
CANON ROCK FLUTE [eng]
In Flutebox.es you have the sheet music of Johan Pachelbel Canon Rock for flute in the version of Canon Rock Jerry C which has later been adapted by different interpreters for different instruments like flute or violin. This arrangement is extracted from youtube video Pachelbel Canon Rock played in the transverse flute by Michi, based on the full arrangement of Jerry C. You can buy the score or find other arrangements in the scores for flute section or by clicking here.
Sígueme y contacta